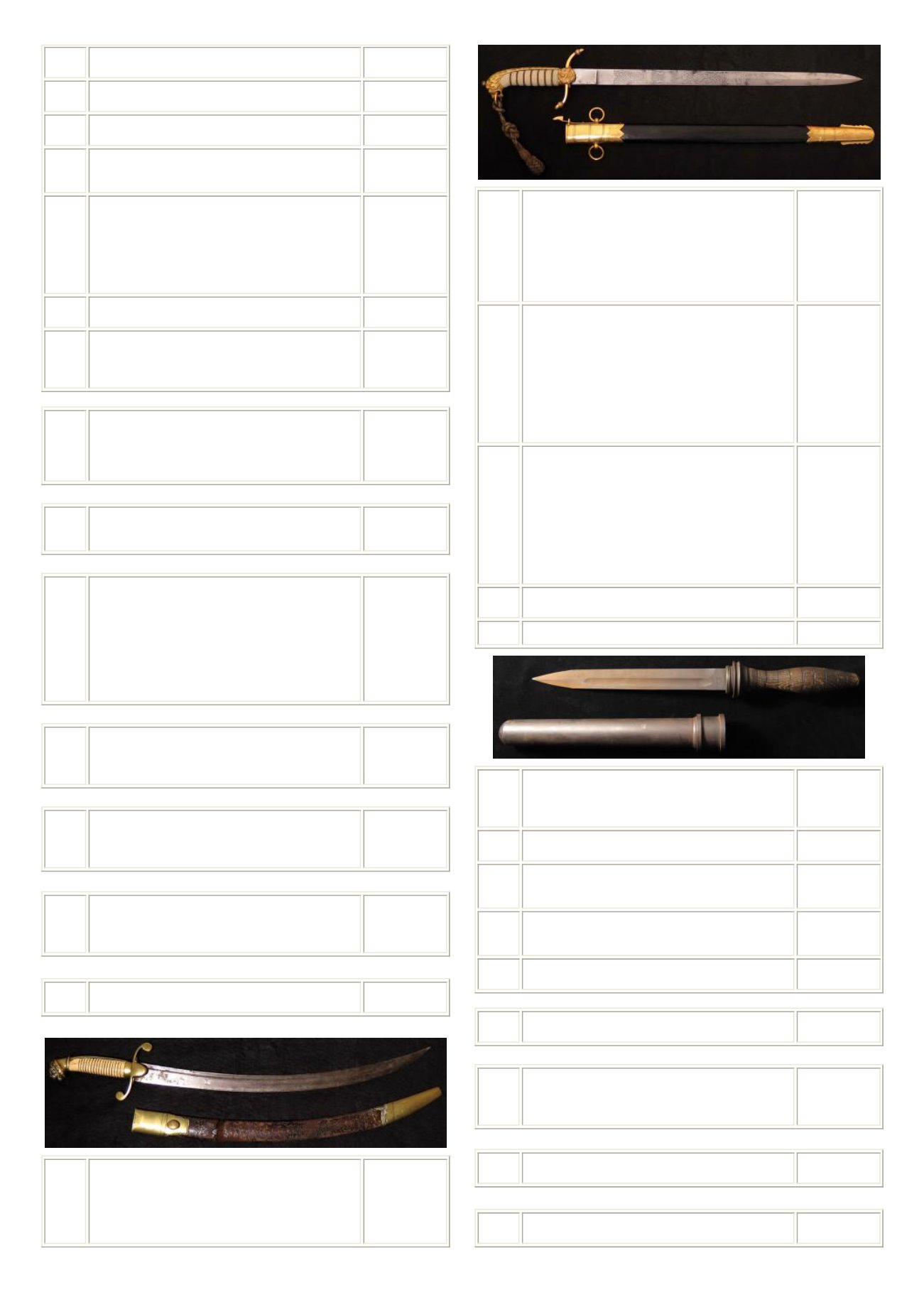 5
49
Bayonet: US. M7 bayonet marked 'IMPERIAL' in its
USM8A1 plastic scabbard. In good condition.
£20 - £25
50
Box of various old daggers and swords, British and
Foreign (qty) Buyer collects
£40 - £45
51
British Army Jungle machete, new condition. Plus
modern Bowie Type knife. (2)
£20 - £25
52
British bayonets. 1) British LIA3 knife bayonet in its steel
scabbard. Good condition. 2) Pattern 1887 MK IV
sword bayonet. Worn condition. No scabbard. (2)
£25 - £25
53
Carbine: An Enfield Native Mounted Police Cavalry
Carbine (approved 14.10.1858). These carbines
constructed from cut down non-interchangeable P.'53
Enfields. Brass mounts. Sling rail & captive swivel
hammer. Barrel 21" bore .656". Approx 6,500 made. In
good working order and condition. Lock marked 'Enfield
1861' & 'VR'. No licence required.
£350 - £400
54
Collection of early Powder Flasks inc one ribbed and one
leather maker marked Sykes, horn x2, and metal x2 (6)
£120 - £140
55
Dagger: A fantasy Bowie knife. Moulded snowy owl
model over faux wood grip. Clipped back blade 8".
Mounted in a purpose built frame for display. No
scabbard. Good overall condition.
£20 - £25
56
Dagger: A large fantasy dagger 'MISTRESS OF THE
DRAGONS'S REALM' by Julie Bell. Large heavy knife,
blade 8.5". Design: Dragon with female with bikini
within. Mounted in a purpose built frame for display. No
scabbard. Good condition overall.
£20 - £25
57
Dagger: A large fantasy dagger. Grip with moulded owl
over faux wood grip. Plain blade 8.5. Mounted in its
display frame. No scabbard. Good condition overall.
£20 - £25
58
Dagger: A Nazi WW2 S.A. dagger made by
'CHRISTIANSWERKE SOLINGEN'. One of only
7,000 manufactured. Crossguard marked 'Nrh' (Gau
marking). This code denotes the dagger belonged to the
S.A. Group at NIEDERRHEIN. The rarity value of this
dagger on the R. SIEGERTA scale is a 5 (on a scale 1 to
10). Dagger shows some service wear. Small screw absent
from the locket. Chape finial flattened. In good original
condition overall.
£200 - £250
59
Dagger: A Romanian Dress dagger with hanging straps.
Double edged blade 9.25". In its steel scabbard with
brass mounts. S guard . Composition in a brass hilt.
Good condition.
£30 - £35
60
Dagger: East German STASI Officers parade dagger
circa 1987. In its original box with hanging strap and
inspection slip. Contained in its green card factory box.
Very good condition.
£40 - £45
61
Dagger: German 3rd Reich 1938. Pattern Naval Officers
dress dagger. Ricasso marked 'W.K.C.' with knights
helmet logo. Thunderbolt brass scabbard. In good
condition. Sold as seen.
£50 - £55
62
Deactivated Russian TT33 semi automatic pistol in
excellent condition with spare mag
£250 - £260
63
Dirk: A circa 1800s Naval Officers dress dirk. Plain
curved blade 18" top flat marked by the maker J & R
MOLE. Brass mounts with lions head pommel. Ribbed
Ivory (?) hilt. In its brass mounted leather scabbard
(mounts good, leather partly a/f). Worn condition
overall, grip assembly a little loose.
£140 - £160
64
Dirk: A fine 1891 Pattern Naval Officers Dirk. Etched
blade 18" with makers name 'GIEVE MATTHEWS
SEAGROVE LTD' to ricasso. Crown & Anchor
decoration 'S' Quillons with Acorn finials. Fine sharkskin
grip with twistwire binding. Blue & Gold bullion knot. In
its brass mounted leather scabbard. Locket with owners
initials 'J.E.C.' engraved thereon. The whole in fine
collectors grade condition.
£200 - £220
65
Double barrelled 12 bore hammer shotgun. Top rib
engraved 'J PURDEY & SONS AUDLEY HOUSE,
SOUTH AUDLEY STREET, LONDON'. Engraved
locks. Action a/f. Left hand barrel with section (1")
blown out, no fore end, leather repair to wrist, butt plate
absent generally at fault. Deactivated with certificate.
Gold escutcheon to walnut buttstock, with crest showing
a rampant lion. A fine gun in its day now in very tired
condition. Wirebound fishskin grip. Backstrap with
ornate decoration, large lions head. Sold as see
£80 - £100
66
European bayonets. All in good condition. 1) Egyptian
Hakini bayonet in steel scabbard. 2) Norwegian Krag
M1894 conversion in steel scabbard. 3) German HK33
knife bayonet in plastic scabbard. 4) Czech Model 58
knife bayonet in leather scabbard. 5) Yugoslav Model 24
Mauser bayonet in steel scabbard. 6) Swiss Model 1957
SIG bayonet in plastic scabbard. 7) Belgian F.N 1949
SLR. Egyptian contract in steel scabbard. 8) Belgian
FAL rifle bayonet in its steel scabbard. 9) British SA 80
bayonet (no scabbard). (9)
£60 - £70
67
Frogs: A lot of 3 leather bayonet frogs, 2 with brass
buckles. (3)
£20 - £25
68
German MG 34 Anti Aircraft Tripod
£200 - £220
69
German Naval Deep Sea Divers knife with wooden
handle, metal tube scabbard, and a German Eagle
stamped to top of blade. A very unusual item (approx 15
inches in total)
£200 - £250
70
German Nazi Army Officers Sword with black metal
scabbard, no makers mark
£140 - £160
71
German SA Dagger with brown metal scabbard (hanger
ring broken off). Blade maker marked 'Anton Wingen Jr
Solingen'.
£150 - £200
72
German SS Dagger with scabbard, blade maker marked
'RZM 1211/39 SS' which indicates the maker E.P. & S.
Solingen.
£400 - £450
73
German WW1 98-05 butchers saw back bayonet 2nd
pattern
£180 - £190
74
German WW1 scarce butches saw back removed pattern
bayonet with scabbard
£120 - £130
75
German WW2 SA Dagger with scabbard and hanger
(maker marked to blade), and an Army Bayonet with
medal scabbard, blade maker marked 'RobT Klaas
Solingen'. Both original but in poor condition
£80 - £100
76
GRVI artillery officers sword very nice etched blade in
its brown leather field scabbard, with sword bag
£170 - £180
77
Indian mid 19th century all steel battle axe, with a brass
hilted Indian cutlass/sidearm (no scabbard) (2)
£50 - £55