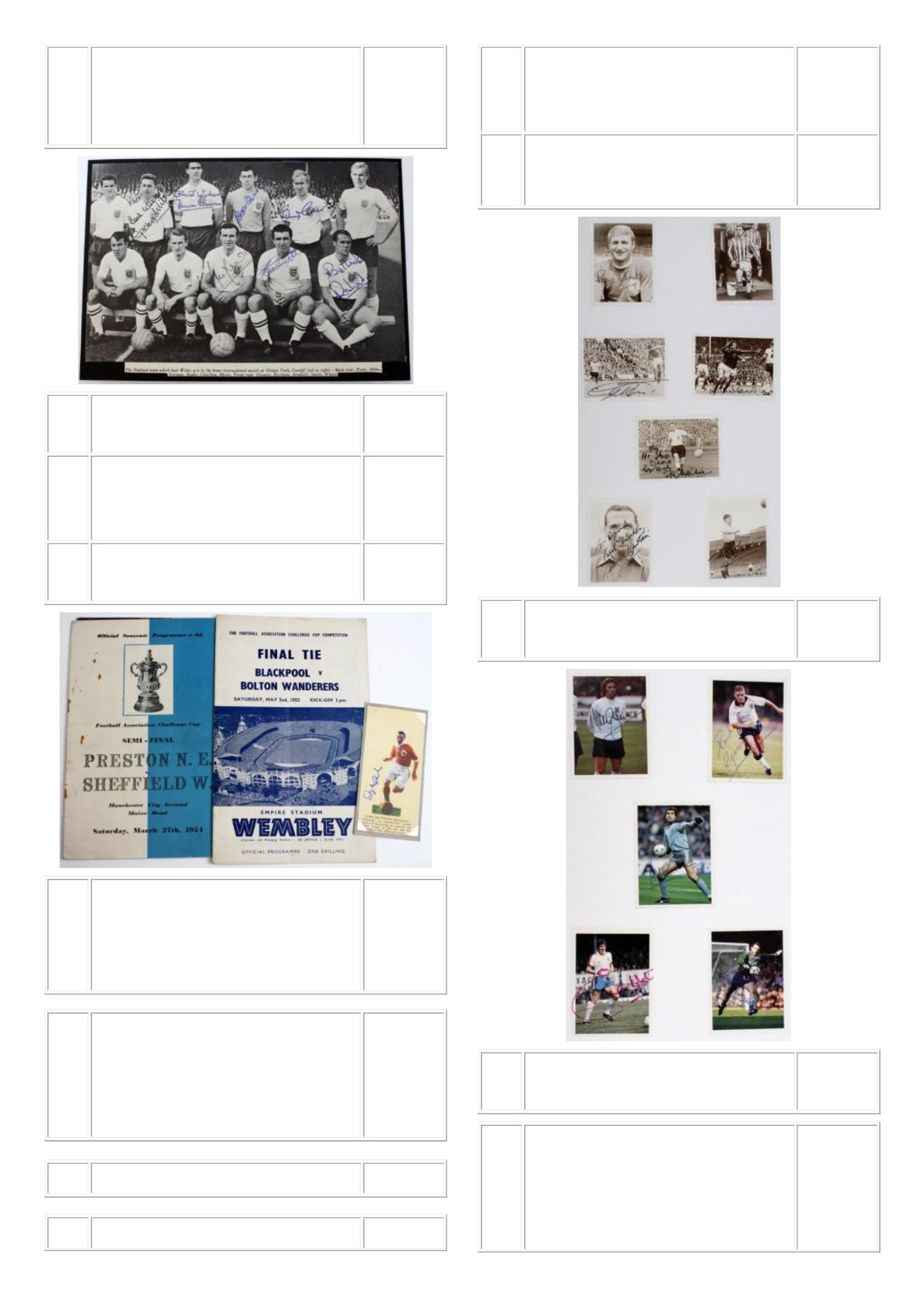 42
1061
England v Scotland issued for game on 12/4/47 by
Sawyer and Gray and signed inside to field of play by
Scott Hardwick Lawton Mannion England v Scotland.
Nice team. Plus 8 mainly black and white postcards,
signed. Includes Don Howe, Peter Bonnetti, John Galley,
Billy Liddell, Ray Bentley, Tom Finney plus unsigned
photo Tony Macedo, Graham Leggatt (qty)
£40 - £45
1062
England v Wales 1963 black/white magazine cut out
mounted on card 9" x 6" signed by 7 players - includes
Milne, Norman, Banks, Charlton, Armfield, Smith and
Wilson, all signed boldly in ink to shirt
£20 - £25
1063
England World Cup Winners 1966 presentation white
fold over card signed by all 11 of the winning team plus
Alf Ramsey. The card has been signed to one half by 10
players plus Ramsey with Moore signed on small white
sticker to other side. Excellent set of autographs would
look fantastic framed.
£150 - £160
1064
European Cup Semi-final, Barcelona v Real Madrid in
Barcelona on 27/04/1960. Real Madrid won both the
home and away legs by 3 - 1 and went on to beat
Eintracht Frankfurt 7 - 3 in the final
£40 - £45
1065
FA Cup Final - Blackpool v Bolton Wanderers for match
played 02/05/1953 known as the Matthews Final,
Blackpool won 4 - 3. Sold with signed photo of Stanley
Matthews (2), and FAC Semi-Finals 1950's Preston N.E v
Sheffield Wednesday 27/03/54 at Maine Road,
Birmingham City v Manchester United 23/3/57 at
Hillsborough and Blackburn Rovers v Bolton Wanderers
22/03/58 at Maine Road x3 (5)
£45 - £50
1066
FA Cup Final 1960 selection, Programme with song sheet
and match ticket Wolverhampton Players Brochure and
Record issued by Pye 45 RPM of commentary, highlights
of final Wolverhampton v Blackburn Rovers in original
sleeve with Wembley and FA Cup. FA Cup Final
30/04/1949 Wolverhampton Wanderers v Leicester City
Match Programme and Wolves players Cup Final
Brochure. Plus front and back pack of Wolverhampton
Chronicle dated 11/02/49 with profile of players (qty)
£50 - £55
1067
FA Cup publication The Official Pictorial Record of the
FA Cup from 1871 - 1948
£20 - £22
1068
FA Cup Semi-Final Newcastle United v Wolverhampton
Wanderers at Hillsborough on 10/03/1951
£25 - £30
1069
FA Cup Semi-Finals - Manchester United v
Wolverhampton Wanderers at Hillsborough 26/3/49
with rare pirate programme 4 page edition issued by
E.Kavanagh of Birmingham (2) FA Cup semi-final replay
Manchester United v Wolverhampton Wanderers on
02/04/49 at Goodison Park, Everton (3 in total)
£80 - £85
1070
FA hard backed official report for the 1970 World Cup in
Mexico, 226 pages includes earlier World Cups and full
details on all aspects for 1970 World Cup. Sold with
players itinerary for the 1970 World Cup and Pre Tour
in Colombia and Ecuador (2)
£60 - £70
1071
Famous Footballers - 7 players, small sepia pictures signed
in ink. World Cup 1966 final, Hurst, Peters, Hunt, Wilson
plus 40s/50s stars Matthews, Lawton and Lofthouse on
thick white card which will frame well
£40 - £45
1072
Famous Footballers, 5 players small coloured pictures
signed in ink by Ball, Shilton, Hughes, Southall and
Gascoigne - signed in full Paul Gascoigne, mounted on
thick white card which would frame well
£25 - £30
1073
Football - Leeds season 1934/35 album page signed by
15 players plus trainer A Campey. Includes Milburn,
Moore, Hydes, Duggan, Savage, Sproston. Leeds finished
18th in Div.1 with 38 points. Plus Leicester City v
Swansea Town season 1946/47 for match played on
12/04/47, with Swindon Town album page, season
1937/38. Signed by 12 including cousins, Willcockson,
Morton, Cookson and Lucas. Swindon finished 8th in
Div.3 south this season (qty)
£45 - £50