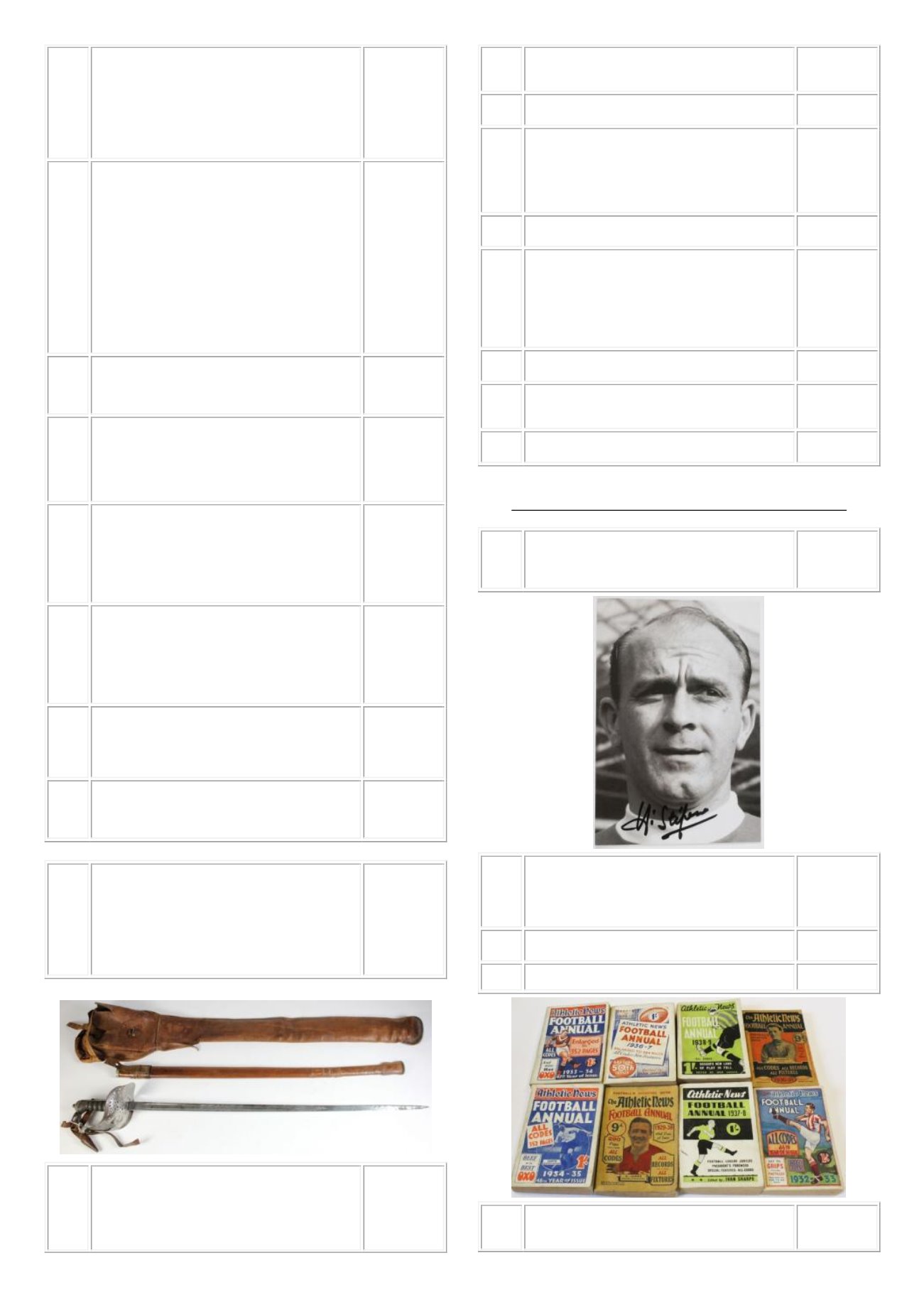 39
1013
Sword: A good 1857 Pattern Engineer Officers Sword by
Henry Wilkinson Pall Mall London. Blade 34.5" and
numbered 15,599. (Dates to 1868 January ?) Nicely
etched with Crown & VR. Wirebound fishskin hilt with
POW Feathers & 'by Appointment'. In its steel scabbard
throat stamped 'Wilkinson Pall Mall'. In good overall
condition. A quality sword with good patination & light
pitting. An untouched 'sleeper'.
£180 - £200
1014
Sword: A good 1882 Pattern British Cavalry troopers
sword. Blade 33.5 with makers initials 'EFD' (Enfield) Top
of blade dated 1890 and reinspected 1899 for Boer War.
Steel bowl with Maltese Cross Motif. Unit marking to the
13th HUSSARS and rack number 840. Steel scabbard
with 2 fixed rings and dated '1893 (January)'. Leather grip
in good condition with service handling wear. The 13th
Hussars reached South Africa in Dec 1899 and were
present at Colenso, Relief of Ladysmith and a series of
smaller actions: Buffalo River, Bethel, Bosman Kranz,
Wagon Convoy, Charge at Langzeekoegat etc. This
sword has seen extensive service wear during this period.
A list of battles and history of 13th Hussars included with
the lot. A 'sleeper' patinated overall, no pitting or damage.
£300 - £350
1015
Sword: A good Masonic Knights Templar dress sword by
Spencer & Co London. Plain Maltese Cross X Guard of
blackened brass. Etched blade 29". In its brass bound
leather scabbard. An attractive lot.
£40 - £45
1016
Sword: A U.S. Civil War heavy Cavalry Sabre by
Hortsmann of Philadelphia. Ricasso marked with makers
name but sadly rubbed. Rack number 286 marked to
brass guard. Wirebound grip, some losses to wire. Three
bar brass hilt. Phryian pommel. Clean blade 36". A good
clean original example. No scabbard.
£80 - £90
1017
Sword: A WW2 German Infantry Officers Sword.
Makers mark obscured by langet however it looks as W.K
& Cie, celluloid black grip with ornate brass guard &
drooping quillon. Leather loop In its black steel scabbard
with single ring & frog loop. Plain blade 35" SE & fullered.
An attractive little sword, a 'sleeper' in good overall
condition.
£150 - £200
1018
Sword: A WW2 period German Infantry Officers sword.
Brass lions head pommel (Glass eyes missing) wirebound
fishskin grip. Nicely etched blade with stands of arms.
Plain brass stirrup guard. Blade 32" in good condition.
This is a quality sword in its black steel scabbard. No
makers mark visible. Lack of Nazi marks may date it
earlier than WW2.
£150 - £200
1019
Sword: An 1827 Pattern Naval Officers Sword. Blade
31.5". Blade with Acanthus etching and Victorian Crown
& fouled anchor. Maker Shannon & Sons, Devonport.
Brass guard with Crown & Anchor device. Folding guard.
An attractive Victorian Naval sword.
£80 - £90
1020
Sword: An 1845/54 Victorian Infantry Officers Sword.
Brass hilt with 'VR' Cypher blade, SE & Fullered 30"
(light rusting) Wirebound leather grip. No Scabbard. In
sound condition.
£50 - £60
1021
Sword: An 1897 Pattern Edward VII Infantry Officers
Sword by H. LEHRMANN REGENCY HOUSE,
ALDERSHOT. Wirebound fishskin hilt. Steel bowl with
Edward VII Cypher (some rusting) Engraved blade 32".
Initials 'AOM' (Alfred Oswald Mander 5th Bn. Welsh
Regiment with MIC address 'The Haven, Esplanade
Avenue Porthcawl, South Wales) In its steel scabbard,
should clean up well.
£120 - £140
1022
Sword: An 1897 Pattern Infantry Officers sword by
Henry Wilkinson SN:- 60296. In its leather field service
scabbard. Etched blade with Geo V Cypher and owners
initials C.H.H. Blade 32" (some rust staining) Wirebound
fishskin grip, leather troddel. A good sword in need of a
little tlc, complete with leather carrying case.
£120 - £140
1023
Sword: An old Indian Tulwar. All steel construction. A
plain simple sword. Pitting & staining overall. Disc
pommel. Traditional design. Blade 31". No scabbard.
£30 - £40
1024
US WW2 Aircraft Escape knife complete with blade
guard
£50 - £55
1025
Various old bayonets including - East German AK47
bayonet with scabbard, 2x Lee Enfield No4 MkII "pig
sticker" bayonets with scabbards, 2x Lee Enfield No9
bayonets with scabbards, German K98 bayonet maker
marked 'P Weyersburg' no scabbard (poor), and a USA
M3 M8A1 fighting knife with scabbard (7)
£50 - £60
1026
Victorian 19th century round barrel percussion box pock
pocket pistol by Hugh Granger of Preston
£250 - £260
1027
Victorian sporting shotgun circa 1840. Fine Damascus
barrel 33 inch, part round and part octagonal of approx
10 bore. Unusual left hand lock, unmarked. Fine walnut
stock with chequered wrist and fore-end. This appears to
be a composite piece, but nonetheless attractive and of
good quality overall. In good working order and
condition. Sold a/f
£50 - £60
1028
Victorian unusual military volunteer carbine, lock dated
1863 with military proof marks to the barrel
£450 - £460
1029
WW1 07 pattern bayonet with metal and leather
scabbard. Blade marked 'S294 WSC'. Scabbard
repainted
£30 - £35
1030
WW1 scarce 1915 dated spring bayonet training rifle in
good condition
£180 - £190
Sporting Programmes & Memorabilia
1031
Album page signed by Southampton and on rear
Bradford City both 1934/35. Southampton 13 players
include Bradford, Sillet, Holt, Luckett. Bradford City 14
players include Mitchell, Bicknell, Hallows and Peachy
£25 - £30
1032
Alfred Di Stefano - Real Madrid, Spain, Argentina black
and white postcard 5.5" x 4" boldly signed. His is a rare
and sort after signature. Head/shoulders relief probably
most famous with his European Cup Final with Real
Madrid
£45 - £50
1033
Arsenal v Aston Villa F/L Div 1, 18th April 1936
programme
£25 - £30
1034
Arsenal v Chelsea F/L Div 1, 6th April 1935 programme
£25 - £30
1035
Athletic News Annuals 1929/30 - 1938/39 continuous
run missing 1931/32 and 1935/36. 8 annuals in total
with full information, fixtures, results etc (8)
£30 - £35