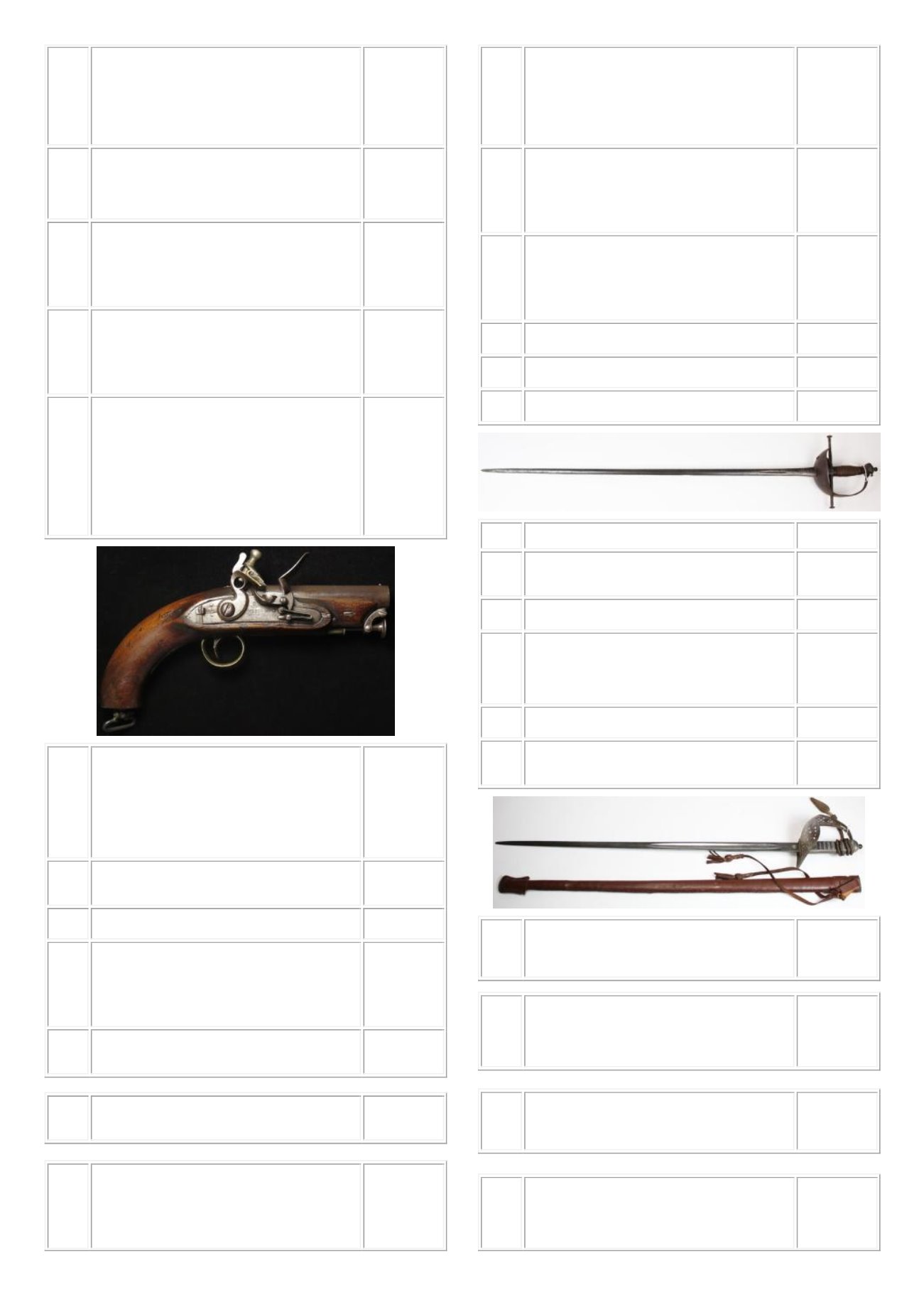 38
985
Pistol: A mid Victorian target/duelling pistol. Octagonal
barrel 10.5" with rear and fore sights. Bag shaped,
chequered grips. Silver fore end and oval barrel keys.
Back action lock in working order with acanthus scrolling
to lockplate and hammer. Ramrod. Silver escutcheon to
grip. A nice quality pistol. Cleaned overall, but all
original.
£120 - £140
986
Pistol: A Percussion, single shot, boxlock turnoff barrel
pocket pistol. Barrel 3". Acanthus scrolling to unsigned
sideplates. Bag shaped, chequered walnut grips, silver
escutcheon. Lock in w/order on 1st & 2nd cock.
Attractive little pocket pistol circa 1850.
£40 - £50
987
Pistol: A Prussian cavalry 'Potsam' pistol cal: 15mm.
Barrel 9" and dated 1851. Lock marked 'POTSDAM
G.S'. Brass furniture. Trigger guard marked 'U9. 4E 18',
Mainspring very tight with nipple protector. Speckled
patination overall. Nice looking pistol. Sold as Seen, age
uncertain
£150 - £160
988
Pistol: An Eastern (Turkish) percussion belt pistol. Drum
and nipple conversion from flintlock. Barrel 9" part
octagonal part round. Sideplate with flags and canon
decorations. Hardwood stock with engraved brass
furniture. Action in working order. Nice pistol in original
(worn) condition.
£80 - £85
989
Pistol: An interesting percussion holster pistol. Appears to
be a drum & nipple conversion from a flintlock pistol.
Barrel
9"
and
is
engraved
'CHESHIRE
CONSTABULARY' (Note the Cheshire Constabulary
was found on 20.4.1857. H.Q. at 4, Seller Street Chester).
Plain lock (slightly a/f brass furniture) Walnut stock with
plain bag shaped grip. Old repair to fore end. With
replacement (?) rammer. It was likely the new police force
would have initially used old refurbished weapon.
Interesting lot.
£130 - £140
990
Pistol: Pattern 1831. An outstanding Board of Ordnance
travelling pistol for self protection and military usage.
Short barrel with flat top 4.5". With GR proofs. Lock tail
marked 'TOWER'. Stepped lock with sliding safety and
Crown GR to lock plate. Ring neck cock, rain proof pan.
Captive rammer. Lanyard ring to stock. Polished walnut
stock with 'BO' arrow mark. Brass T/Guard. This pistol
for customs or coastguard use. Super piece
£900 - £950
991
Pocket flintlock pistol with folding trigger and safety lock,
1 3/4'' unscrew barrel, with two proof marks, engraved
drum and banners / sun, on lock
£120 - £150
992
Relic excavated k98 rifle found Normandy with WW1
Belgium rifle found western front
£35 - £40
993
Revolver: A Franklin Mint (?) copy of the Colt .45 S.A.
Revolver carried by Gen George S. Pattern JR. Displayed
on a frame with a map of Europe with Patton's battles
marked. A decent replica model (non firing no certificate
required) Action in w/o. Eagle plastic grips. A good
display item.
£35 - £40
994
Revolver: An Italian .330 blank firing (side vented) copy
of a .357 Magnum revolver. In good working order with
some wear to finish. No licence required.
£20 - £25
995
Revolver: An Italian .380 blank firing (side vented) copy
of a .357 S & W Magnum Revolver. In good working
order with some wear to finish. No licence required.
£20 - £25
996
Rifle: A French Pattern 1842 military musket. Lockplate
shows manufactured at MUTZIG Arsenal France. The
barrel length of 33.4 inch identifies this as the model 1842
dragoon Musket in .71 calibre. It has two barrel hands
(not 3). These were used in the Crimean War and 175,000
were bought for the U.S. Civil War. In working order.
£250 - £300
997
Rifle: A good Mauser Model 71/84 Service Rifle in
11mm (obsolete calibre no licence required) Action dated
1886 made at SPANDAU. Butt plate tang marked to
109th Regiment. Good bore. 'FW' Cypher to breech. SN:
3336. Tube magazine for 8 rounds on the Kropatschek
principle. Ordnance marked. A good example. These
rifles used on reserve line units in WW1.
£400 - £450
998
Rifle: A Mauser - Kropatschek Model 1886 service rifle
dated 1886. Rear of receiver marked crown with LIo
(Crest of King Luiz of Portugal) and 'M:1886'. Bolt action,
obsolete calibre (no licence required). In its walnut full
stock (some bruising) Bore dirty and appears shot out.
Rifle in generally good condition.
£270 - £280
999
Rifle: A Russian copy of a French Model 1842 musket
made in Belgium. Lock dated 1844. Stock with cheek
piece. Crack to forend and scattered woodworm holes.
Brass furniture. Lock in working order. Light pitting
overall. Barrel 41.5". Musket probably converted from
flintlock.
£200 - £250
1000
Spanish early 20th century artillery side arm complete
with original scabbard
£120 - £130
1001
Springfield Rifle 1903-1905 only model, a Ramrod, very
useful if anyone is missing one, GC Sold a/f
£25 - £30
1002
SS German Officers Sword (composite) - some original
parts. Scabbard clean. Sold as found
£50 - £60
1003
Sword - Spanish Rapier c 1720
£350 - £360
1004
Sword - scarce Indian cavalry sword in its leather covered
scabbard with various ordnance markings and dated
1915
£300 - £320
1005
Sword stick a Victorian Gentleman's sword stick, silver
hallmarked, feint stamps to blade, GC
£90 - £100
1006
Swords: 1) A French Gladius Pattern sidearm pattern
1841. Blade 18.5" (top missing, rusted with loss to one
edge). Blade relic, grip good. No scabbard. 2) A good Gras
Epee Bayonet made at Tulle in 1881. No scabbard. 3) An
Indian decorative/tourist sword in scabbard. G.C. (3)
£20 - £25
1007
Swords: Indian all steel Tulwar and an Indian souvenir
sword. No scabbard. Worn overall. (2)
£20 - £25
1008
Sword: A 19th century Briquette type sword. Unfullered
blade 26". Heavy brass ribbed grip. Unmarked overall.
Quite likely of French origin.
£25 - £30
1009
Sword: A George V 1897 Pattern Infantry Officers
Sword. Etched blade 31.5" (tip rounded) Top of blade
numbered 02446. Wirebound fishskin grip. In a leather
field service scabbard. Worn overall, grip & guard good.
£100 - £110
1010
Sword: A German (?) heavy cavalry sword circa 1870.
Heavy fullered curved blade 35". Ricasso marked S&K.
Steel bowl with large teardrops design. Wirebound grip
(mind your fingers!) Steel scabbard with two hanging
rings. Worn overall, stained but not pitted.
£100 - £110
1011
Sword: A gilt brass Masonic dress sword of the Knights
Templar. Etched blade 27.5". Maltese Cross,
Crossguard. Polished brass grip. In its mounted leather
scabbard. A good example.
£40 - £45
1012
Sword: A good 1827 Pattern Rifle Officers Sword. Blade
32.5" finely etched blade with strung bugle and 'RIFLES'.
Steel bowl with VR Crown & strung bugle. In its steel
scabbard. The whole nicely patinated and in good overall
condition (grip wire a/f) A 'sleeper'.
£130 - £140