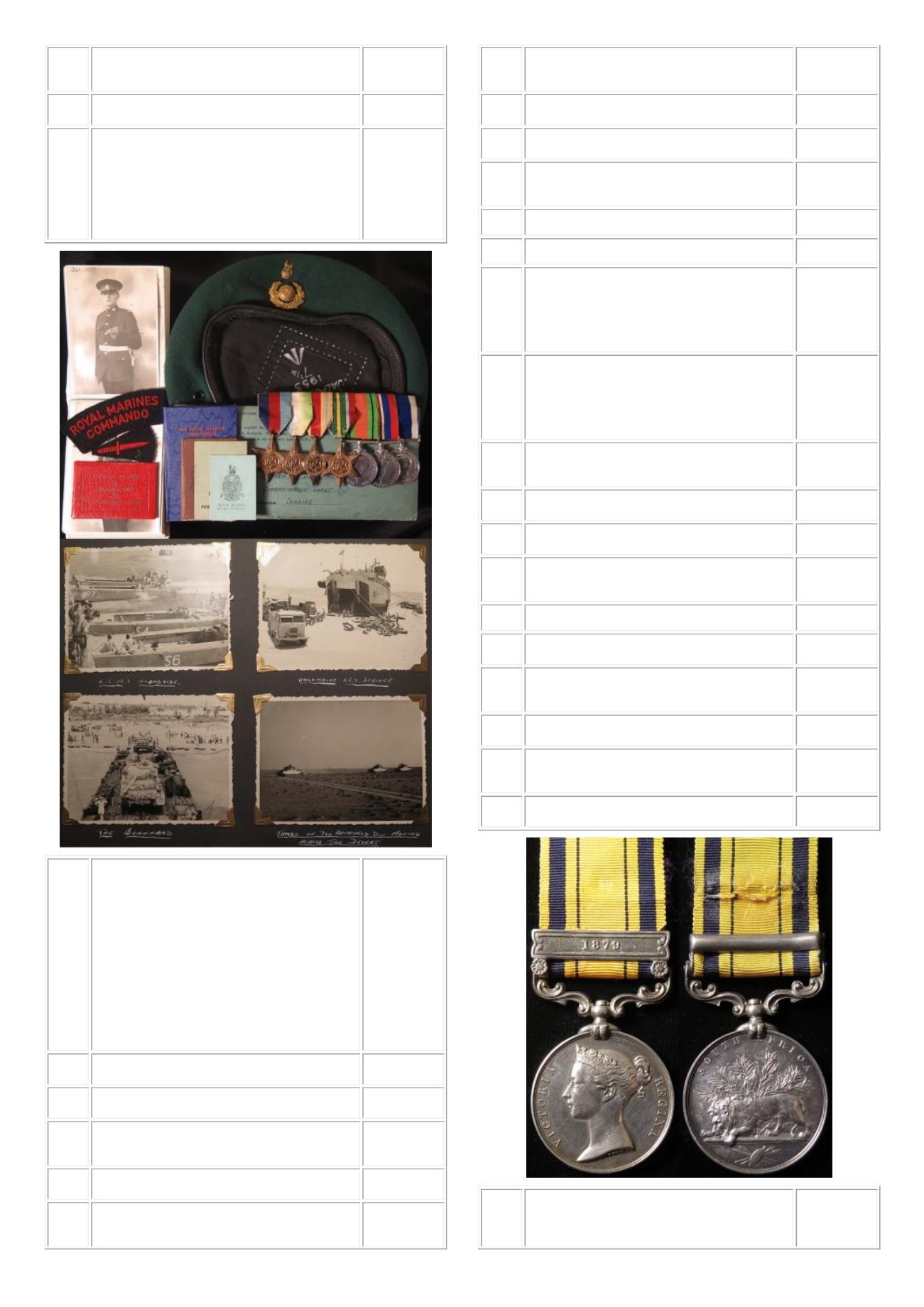 29
769
Royal Air Force Cadet, Apprentice and Boy Entrants
Gorget Patches and Slip-on Shoulder Badges for use at
Cranwell and RAF Henlow etc (approx 30 items)
£30 - £35
770
Royal Devon Yeomanry Artillery bronze badge with
folding lugs. Rare
£30 - £35
771
Royal Humane Society Medal in silver, in fitted
Elkington case. Named Lieut Arthur Marsden RN 25th
March 1912. For saving a seaman from the sea. Later
served in WW1 and Commended for Jutland where he
was wounded in the thigh when the destroyer he was in
command of, HMS Ardent was Sunk, retired as a
Commander 1920, became an MP. Recalled for WW2
service, retired as a Captain. With much research. EF
£400 - £450
772
Royal Marine Commando group mounted as worn -
1939-45 Star, Atlantic Star, Africa Star, Pacific Star,
Defence & War Medals, Naval LSGC Medal GVI
(CH.X.2135 D A Hopker CLR/SGT. RM.). Denis
Alfred Hopker was born at Mile Town, Sheerness, Kent
1919. Served HQ 3 Cdo 8 June 57 to 30 Nov 1958. Lot
includes original Certificate of Service, green beret
(Jalpotex 1953). A large photo album of Military interest
with Commando Dagger to front inc Hopker in Uniform
with medals. During the 1970's he was involved in TV
including The Onedin Line, giving advice re tall ships
and hiring out his own vessel. Lot includes several behind
the scenes photos inc good images of Jane Seymour.
Needs careful viewing. Nice lot (qty)
£250 - £300
773
Royal Naval HMS 1944 Hat, Money Belt, Hat Tin,
Tallies etc inc HMS Penguin (qty)
£35 - £40
774
Royal Naval Reserve KC sword belt, with and RAF KC
sword belt, plus leather case
£35 - £40
775
Royal Navy interesting scrap albums, two of, relating to
R Waltham from Lowestoft, Suffolk, many good photos
of landing craft RN ships etc.
£25 - £30
776
Royal Navy Officers dress hat named to R H Longton
complete with his sword belt
£60 - £65
777
Royal Navy WW2 'H.M.S' Tallyband together with
WW2 and later arm badges and shoulder titles (approx
20 items)
£30 - £35
778
Royal Observer Corps Medal named to Chief Observer
C G Humphrey, with Long Service bar. Served No 15
Group, medal issued 1967, bar 1979 (Lincoln). EF
£150 - £200
779
Royal Observer Corps Medal (1st issue) named Observer
F C Waight. EF
£140 - £160
780
Royal Observer Corps. 2 Cap Badges, Arm Badges and
Group Number Badges (approx 30)
£30 - £35
781
Royal Tank Corps Kings Crown dress belt buckle with
selection of lapel and pin badges, ARP Home Guard, TA
etc.
£35 - £40
782
Russian T3H Night Vision Scope with carry strap
£35 - £40
783
Russian WW2 scarce soldiers hat
£50 - £55
784
SAAF Pilots log books, five of, spanning from 1-4-1920 to
7-4-1940 to Major N F Thomas SAAF comes with three
diary note books, medal entitlement documents, photo
and citation for the 1953 coronation medal with letter
stating that he was posted to Washington USA for serving
with the British embassy, nice complete group
£180 - £190
785
SAS Special Air Service interest, a beige Officers beret,
Who Dares Wins cloth badge, dated 1953, faintly named,
an "Alpros" Military Watch with 3 ATP 44 and Crows
Foot on reverse, plus fighting knife (no scabbard) and
identity tag, Capt.A.T.Allen CE 457, 22 SAS, interesting
assortment, worthy of research.
£360 - £380
786
Second China War Medal 1861, privately
named/renamed (Drummer Dawson 3rd Buffs). Claw
reattached, contact marks nVF. Sold a/f
£60 - £70
787
Selection of officers pips, crowns, qty of Artillery buttons,
collars, etc (qty)
£30 - £30
788
Selection of various military related lapel badges,
sweethearts, medallions etc, some silver (approx 12)
£30 - £35
789
Sergt A M Lashmore Womens Auxiliary Air Force
Mentioned In Despatches Certificate 1/1/1945. Defence
& War Medal + MID
£50 - £55
790
Shoulder Title T/10/Scottish/Liverpool. Scarce
£50 - £55
791
Slouch hats, two British, possibly post WW2 examples,
no markings, possibly used Malaya
£45 - £50
792
Small box of various Militaria inc Cap badges, cloth
badges, etc etc, plus an unusual WW1 (1917 silver
hallmarked) Red Cross pin cushion (qty)
£30 - £35
793
Snare drums, plus parts, though to be from three different
ones (Qty) (Buyer collects)
£25 - £30
794
Soldiers and RAF Airmans documents, medals etc., to
3953505 J W Turner Welsh Reg, enlisted 1923,
discharged 1930, enlisted RAF 1942 to 1945
£50 - £55
795
South Africa Medal 1853, medal renamed in engraved
letters to R. Dafters 73rd Regt. Confirmed to roll. VF
£80 - £85
796
South Africa Medal with 1879 clasp, named 3313 Pte M
Moore 3/60th Foot (964 to Regt). Also entitled to Egypt
Medal 1882 with bars El-Teb-Tamaai and Suakin. GVF
tiny dig to neck. (1)
£500 - £550