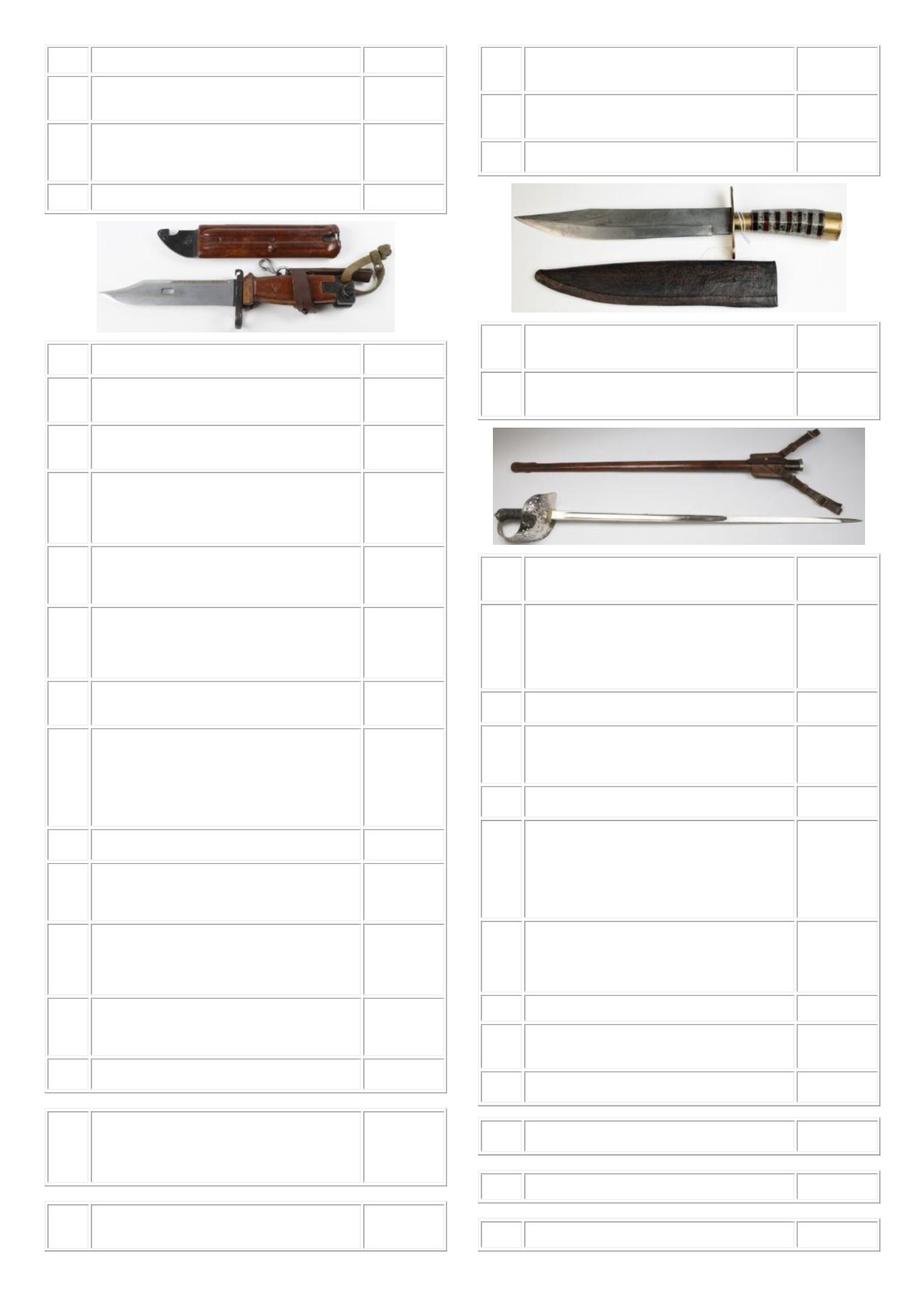 35
897
Arabic dagger and two other foreign knives (3)
£20 - £25
898
Bayonet a French Gras 1874 Bayonet which has had a
rare conversion to fit the Gew88 Rifle , these were done
for the Ulster Defence Force, good clean example
£70 - £75
899
Bayonet an interesting Egg Bayonet, offered as a possible
rare copy of an exceedingly rare Bayonet but nothing on
it makes us certain it is not original, good display example
GC. Sold a/f
£120 - £130
900
Bayonet scarce 1864 Whitworth sword bayonet
£120 - £130
901
Bayonet with scabbard, blade unmarked, handle marked
'31/1' and '380', with small leather frog
£20 - £25
902
Bayonets without scabbards. 1) Berthier WW1 Model
1992 with hooked quillon. 2) Spanish Model 1893
Artillery Bayonet generally sound condition. (2)
£25 - £30
903
Bayonets WW1 07 Pattern dated 1918 made by
Sanderson with US P17 made by Remington both in
scabbards
£130 - £140
904
Bayonets: French Model 1866 Sabre bayonets for the
Chasspot rifle. 1) Unmarked example, cross guard pitted.
No scabbard. 2) St Etienne June 1868 in steel scabbard
(blade tip missing, end of scabbard finial missing rusted)
(2)
£20 - £25
905
Bayonets: French Model 1866 Sabre bayonets for the
Chasspott Rifle. One St Etienne April 1870, second:
Chateller- ault Febre 1867 (blade with loss to tip) No
scabbards. (2)
£20 - £25
906
Bayonets: French Model 1866 Sabre bayonets, one for
Chasspot the other for a Continental rifle. One made at
St Etienne in 1867 the other made in Germany by A.C.
(Scales logo) Alex Coppel. Solingen. Both in steel
scabbards (rusted overall with pitting) (2)
£30 - £40
907
Bayonets: French Model 1866 Sabre bayonets. One for
the Chasspot rifle the other probably for a German rifle.
Both unmarked. No scabbards. (2)
£20 - £25
908
Bayonets: good bayonets both lacking scabbards and
press studs. 1) Pattern 1879 Artillery sword bayonet with
saw back blade 25.5". W/D marked and dated Dec 1884
with further inspection marks to 1900. Chequered leather
grip in good condition overall. 2) A French Model at
Chatellerault in June 1879. Good clear address. Sound
and better condition. (2)
£40 - £50
909
Bayonets: No 4 MKII Spike Bayonets in their steel
scabbards. All in good condition. (3)
£20 - £25
910
Bayonets: two British 1888 Pattern bayonets for the Lee
Metford/Enfield Rifle MKI, 1) Made Oct. 1890 by
Wilkinson. 2) Made Oct 1898 by Enfield. Worn and
pitted overall. (2)
£20 - £22
911
Bayonet: A British Model 1895 Martini Henry Bayonet
in its brass mounted leather scabbard. Excellent blade
with 'I' - India mark and W/D arrow mark, plus Indian
farsi markings. Most original blue to socket. Bayonet in
collectors grade condition.
£75 - £80
912
Bayonet: A good India Pattern WW2 SMLE Bayonet
MKII*. Ricasso marked to the North West Railway and
dated '43 (1943). Unfullered blued blade. In its steel
mounted leather scabbard.
£30 - £40
913
Bayonet: A good P.13 bayonet by Remington. In its steel
mounted leather scabbard.
£30 - £35
914
Bayonet: A good replica/copy of a U.S. Dahlgren.
Bayonet for the Model 1861 Spuriously marked 'AMES
& Co MASS' & '1861'. Heavy brass hilt and hardwood
grip. In its brass mounted leather scabbard. Overall in
good condition with simulated ageing. Sold a/f
£250 - £260
915
Bayonet: A P'13 bayonet dated 5'17 by Remington in its
steel mounted leather scabbard dated 1915. Worn overall
but sound condition.
£25 - £30
916
Bayonet: A shortened Pattern 1856 sword bayonet. Blade
13" & dated 9/1882 with W/D stamp. In its steel
mounted leather scabbard. A decent example.
£30 - £35
917
Bayonet: A WW1 P'17 US Bayonet dated 1917 by
Remington. Ricasso marked 'US.' In its steel mounted
leather scabbard. Worn but sound condition.
£25 - £30
918
Bowie Knife by Edward Barnes & Son Sheffield, unusual
horse head and antler grip, with scabbard
£240 - £250
919
Bowie Knife: A Victorian Bowie knife, slim Bowie blade
9" with pricket decoration. Brass layered grip in its leather
scabbard.
£130 - £140
920
British No.4 Sniper scope, no mounts, 1941 dated, No.32,
Mk 1, Tel. Sighting, etc marked optics clean but sold as
an exhibit only, minor paint wear, VGC
£370 - £380
921
British Officers GVI dress sword with leather scabbard
and frog. Blade maker marked 'Henry Wilkinson Pall
Mall London', and numbered '60796'.
£150 - £200
922
British swords as follows:- 1) An 1822/45 pattern sword.
Pipe back blade 32". Wirebound fishskin grip (sold a/f
with losses). Brass guard (some distortions). 2) An 1821
Pattern Light cavalry sword. Blade shortened to 24.5".
Triple bar hilt with part loss of crossguard. Wirebound
fishskin grip. Both without scabbards. (2)
£20 - £25
923
British WW1 Bayonets. 1) A P'07 heavily rusted, no
scabbard. 2) A P'17 with U.S markings. Scabbard a/f. (2)
£20 - £25
924
Carbine: A French Model 1842 type military carbine.
Tapered barrel 23". Back action lock (a/f) heavily pitted.
Stock with extensive woodworm. Worn overall but
complete and original.
£50 - £60
925
Chinese type 54 7.62x25 Tokarev Korean Holster, cross
strap and mag pouches
£35 - £40
926
Dagger: A good early 3rd Reich S.A. Dagger by
Gebruder Heller Blade 8.5 with the legend 'ALLES FUR
DEUTSCHLAND' Cross guard is marked 'BO'
(Bayerische
Ostmark)
for
Territorial
Group
ALPENLAND A. This dagger is of the early production
period 1933-35 (?). in excellent overall condition with no
damage (minor rusting to scabbard).
£270 - £280
927
Dagger: An Indian Dagger 'KARD'. Large bulbous horn
grip. Slim blade 12". Eastern silver mounts. In its
decorated E. Silver scabbard with E.S Chape and locket.
A panel shows Indian script, possibly the owners name.
Good quality knife. Plus a tourist Kukri.
£30 - £40
928
Diana Air Rifle MOD.23
£30 - £40
929
Fighting knife bayonet, unusual itemmade from Japanese
bayonet shortened with large muzzle ring fitted, needs
researching, with scabbard
£80 - £85
930
French Chassepot bayonet, dated 1875 and hooked
quillon crossguard, no scabbard
£50 - £55
931
French Chassepot bayonet, early example dated 1842
and with straight crossguard, no scabbard, scarce
£80 - £85
932
French Epee Bayonet with Scabbard, blade dated 1880
£50 - £55
933
French Epee bayonets, all without scabbards (3)
£70 - £80