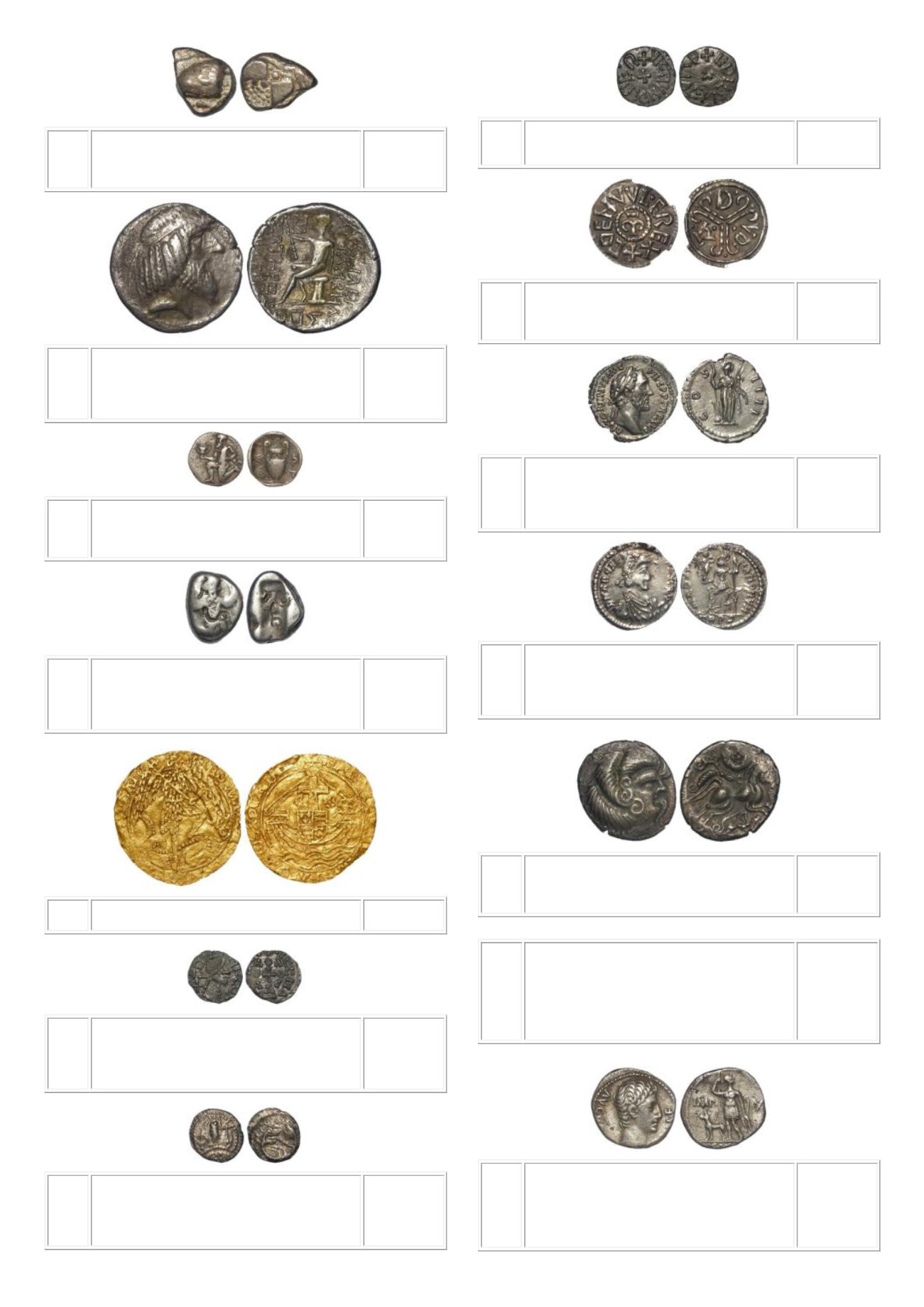 53
1251
Ancient Greek Silver Drachm of Sinope ( a colony of
Miletos) c.450 BC. Obverse: Crude head of eagle left,
dolphin below. Reverse: Quadripartite incuse square with
alternate granulated surfaces. Sear 3688. GVF.
£70 - £90
1252
Ancient Greek Silver Tetradrachm of Attambelos I King
of Characene c.44-40 BC. Obverse: His diademed head
right, with long beard, reverse: naked Hercules seated left,
in Exergue Seleukid year 272 = 41/41 BC. Sear 6182.
Heatstyle, well centred & well struck. GVF.
£240 - £260
1253
Ancient Greek silver Trihemiobol of Thasos, 411-350
B.C., obverse:- Satyr kneeling left, holding kantharos,
reverse:- Inscription each side of amphora all in shallow
incuse square, Sear 1755, well centred, NVF
£50 - £60
1254
Ancient Persian silver siglos, c.500 B.C., the Great King
kneeling right, shooting bow and arrow / Incuse oblong
punch, the piece seems transitional in that the fabric and
style are as Sear 3427 but the King has his legs visible as
Sear 3425, banker's test marks each side
£60 - £80
1255
Angel Edward IV S.1967 mintmark Near Fine with a
small amount of residue on the reverse rim
£1000 - £1100
1256
Anglo-Saxon silver sceat, Primary Phase c.680-
c.710A.D., Series F, Helmeted bust right, blundered
legends, reverse:- Small cross, an annulet at each end,
placed on steps, TTI I in angles, Spink 781, sharply struck
VF/GVF
£150 - £160
1257
Anglo-Saxon silver sceat, Secondary Phase c.710-c.760,
Series K, Type 32a, Bust right with cross before,
supported by hand / Wolf-headed serpent, biting its tail,
Spink 803C, with old ticket, slightly rough surfaces,
reverse slightly off centre, VF/GF
£100 - £120
1258
Anglo Saxon Styca of Northumberland. Wt. 1.16g. Of
Wigmund Archbishop of York 837-849/50 AD. Moneyer
Edilveard, Spink 870, good caligraphy. EF
£100 - £120
1259
Anglo Saxon. Mercia. Coenwulf 796-821 AD. Silver
Penny 1.17g. Tribrach type. Moneyer Duda. S.914.
Some extreme edge loss but little actual wear since struck,
rare.
£650 - £700
1260
Antoninus Pius, silver denarius, Rome Mint 152-153,
reverse reads:- COS IIII, Fortuna standing right, holding
rudder set on globe and an out turned cornucopiae, Sear
4073, a sharply struck piece of good metal, with a hint of
original finish, EF
£80 - £90
1261
Arcadivs silver siliqua, emperor's name rendered as
ARCAPIVS, see Sear p,437, Trier Mint 393-395 A.D.,
reverse reads:- VIRTVS ROMANORVM, in exergue
TR PS, Sear 20761, edge a little uneven but probably as
produced, VF
£30 - £50
1262
Armorican billon stater [N.W.Gaul and the Channel
Islands], Celtic head, right / Galloping horse right, boar
below, Spink p.2, a nice, large flan specimen, Ex. Seaby
and with two old tickets, VF
£60 - £80
1263
Augustus brass dupondius [moneyer's series], reverse
legend:- T CRISPINVS SVLPICIANVS III VIR A A A
F F, Sear 1669, even milky green patina, NVF together
with a silver siliqua of Valentinian II, Trier Mint, reverse:-
Victory walking right, surface rough with pits but
unclipped as many British found pieces are in this series,
GF [2]
£30 - £40
1264
Augustus silver denarius, Lugdunum Mint 15-13 B.C.,
obverse:- Bare head of Augustus, right, reverse:- Diana
standing left, looking right, hound at feet, Sear 1612, a
scarce type that commemorates the victory of Augustus
over Sextus Pompey at the battle of Naulochus on 3 rd.
Sept. 36 B.C., pleasing bust of Augustus, GVF/VF
£250 - £300