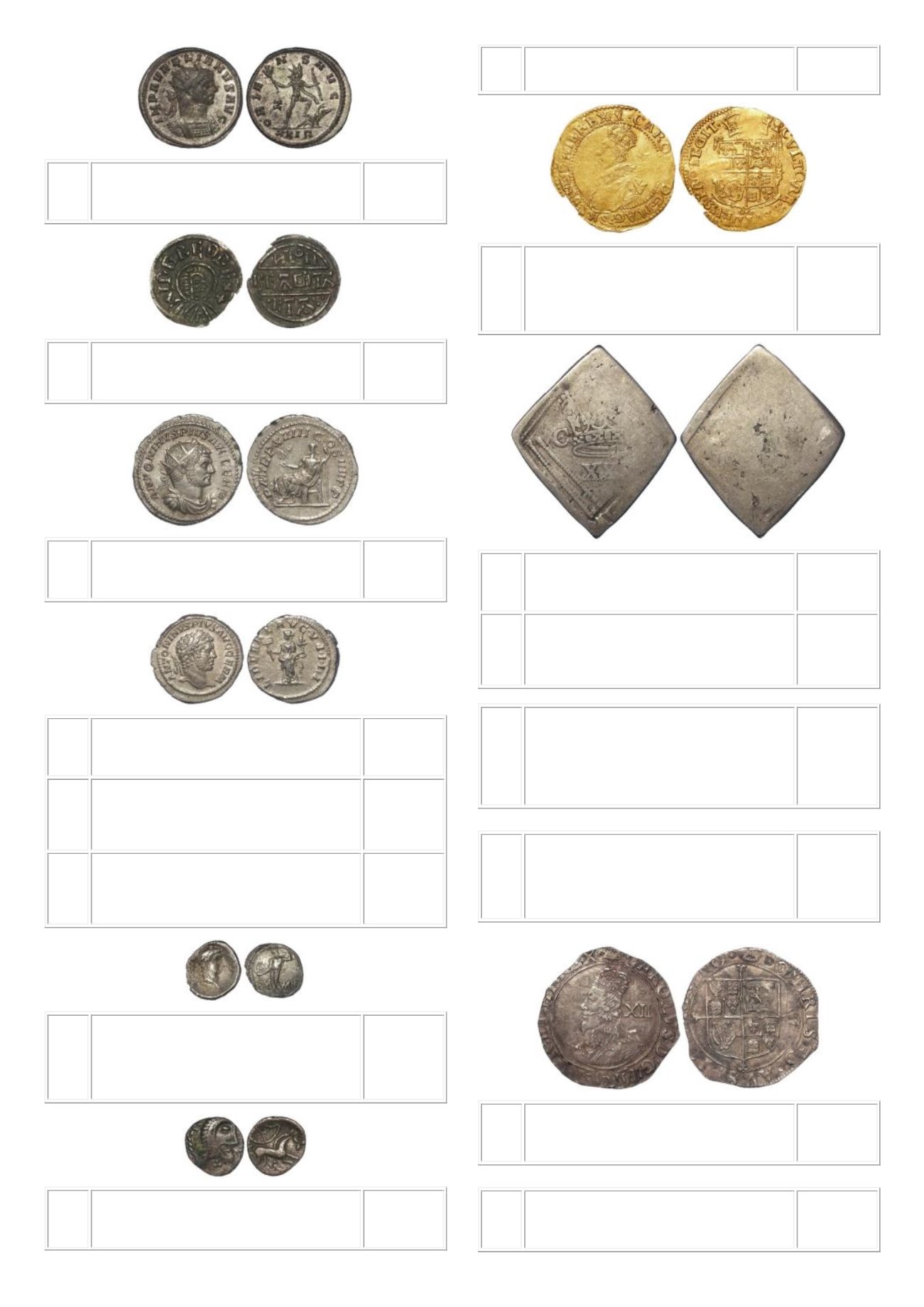 54
1265
Aurelian Billon Antoninianus. Rome Mint 274-275 AD.
Reverse reads: Oriens Aug, XXIR in Exergue. Sol
advancing right, treading down enemy & holding laurel
branch & B.W. Sear 11569. Much original finish, EF
£30 - £35
1266
Burgred silver penny, reverse A, obverse similar to B,
Spink 939B, moneyer BEAGSTA[N], with two old
tickets, extreme edge loss, obverse 3 to 6 o'clock, black,
VF
£300 - £400
1267
Caracalla silver antoninianus, Rome Mint 215 A.D.,
reverse reads:- PM TR P XVIII COS IIII P P., Jupiter
seated left, holding Victory and sceptre, eagle at feet, Sear
6769, very light golden tone, EF/NEF
£80 - £90
1268
Caracalla silver denarius, Rome Mint 215-217 A.D.,
reverse reads:- LIBERALITAS AVG VIIII, Liberalitas
standing left, holding abacus and cornucopiae, RIC 302,
reverse slightly off centre, NEF
£50 - £60
1269
Celtic bronze stater of the Durotriges, uninscribed type
Spink 371, with an old ticket, F, with a silver fractional
unit of the Corieltauvi, Blank / Horse right, Spink 400,
with two old tickets, very small piece missing from edge
and a very short crack, GF [2]
£40 - £45
1270
Celtic bronze unit of the Catuvellauni and Trinovantes,
Cunobelinus, Winged head, left, CVNO in front, BELIN
behind / Seated metal worker, TASCIO behind, Spink
342, ABC 2969, with old ticket, both dies slightly off
centre, GF
£40 - £50
1271
Celtic silver unit of the Atrebates and Regni, Verica,
Naked figure standing left, holding lituus and bunch of
grapes, COM/MIF across field / Laureate, Romanised
bust [ABC 1250 as Tiberius], right, VERI behind, CA in
front, Spink 136, with old ticket, light marks under
magnification, NVF
£80 - £100
1272
Celtic silver unit of the Iceni, this type being attributed to
Queen Boudicca by some numismatists, Spink 434, Celtic
head, right, corn ear behind / Horse right, wheel above,
with old ticket, NVF
£40 - £45
1273
Celtic silver units of the Iceni, uninscribed issues, Two
opposed crescents / Horse right, Spink 436, both with old
tickets, GF and GF with light greenish deposit [2]
£40 - £45
1274
Charles I gold Double-crown, Tower Mint under the
King 1625-1642, mm. Negro's Head, 1626-1627, Group
B, Bust 2, Spink 2699, with old ticket, full flan a little
extreme edge loss at obverse, 8 o'clock, a little flat area
each side, very lightly crinkled, light die cracks reverse,
GF
£500 - £700
1275
Charles I Newark siege piece, halfcrown, Spink 3140-
3140A, with old tickets, looks to the same obverse die as
Brooker plate CXVI, 1221-1222, reverse blank, also with
some flatness obverse, what is struck up is F
£300 - £400
1276
Charles I silver crown of Exeter, mm. Castle and dated
1645, same obverse die as Brooker 1038-1045, the reverse
die was not in the collection, Ex. Glendining 17
November 1971, lot 207, Spink 3062, with old ticket,
slightly angular flan but large and well centred, Fair/Fine
£300 - £400
1277
Charles I silver halfcrown, Tower Mint under Parliament
1642-1649, mm. [R], 1644-1645, Group III, Type 3a3,
Spink 2778, P/GF, together with a ditto but a silver
halfgroat, under the King, mm. Star 1640-1641, Spink
2832, creased, F and lastly a silver penny, mm. Two
Pellets, Group E, no inner circles, Spink 2849, all with old
tickets, hairline crack, F [3]
£45 - £55
1278
Charles I silver shilling, Tower Mint under the King
1625-1642, mm. Triangle 1639-1640, Group F, Sixth
large Briot's Bust, Type 4.4, Spink 2799, with a ditto but
a silver sixpence, mm. no visible but oval shield, no C R,
ie Group D, Fourth Bust, Type 3.3., Spink 2813, both
with old tickets, NF/F [2]
£45 - £50
1279
Charles I Silver Shilling. Tower Mint. MM. Triangle
(1639-1640). Fifth Aberystwyth Bust. Type 4-3. Spink
2796. Good weight at 6.05g. Evenly struck bust, nice old
tone . GVF. Excellent with old envelope.
£220 - £240
1280
Charles I silver threepence, Aberystwyth 1638-1642, mm.
Book, crown clear of inner circle, Spink 2894, full, round
NF/F together with a Rose farthing, Class 3, mm. Mullet
each side, GF both with old tickets [2]
£45 - £55